Home

/

JUSTIN MEN'S CRACKED BROWN BENT RAIL BOOTS WITH CRACKED BLACK TOP
JUSTIN MEN'S CRACKED BROWN BENT RAIL BOOTS WITH CRACKED BLACK TOP
Stock No.
BR734
Price:
211.95

In stock
Manufacturer: Justin
Shipping Weight: 6.00 pounds
Quantity in Cart: None
JUSTIN MEN'S CRACKED BROWN BENT RAIL BOOTS WITH CRACKED BLACK TOP
Tan Road Bent Rail
Amazingly comfortable, minimal break in time, and of course they look great. These boots are made in the USA which means you can expect the durability of American made products. The cracked black top and tan lower combine to be one of the best looking boots on the market, surely to bring compliments everytime you wear them.
Specifications
11" Tan Road Upper
Tan Road Lower
J124 Wide Square Toe
T Heel, 1 3/8" Height Long Base Block
J-flex Flexible Comfort System
Genuine Leather
Made In the USA
Related Products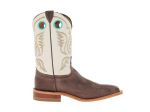 Square toe western boots with J-Flex Comfort Stystem
---
$224.95
Vibrant orange upper and rich brown lower
Broad Square Toe
Leather Sole
---
$224.95